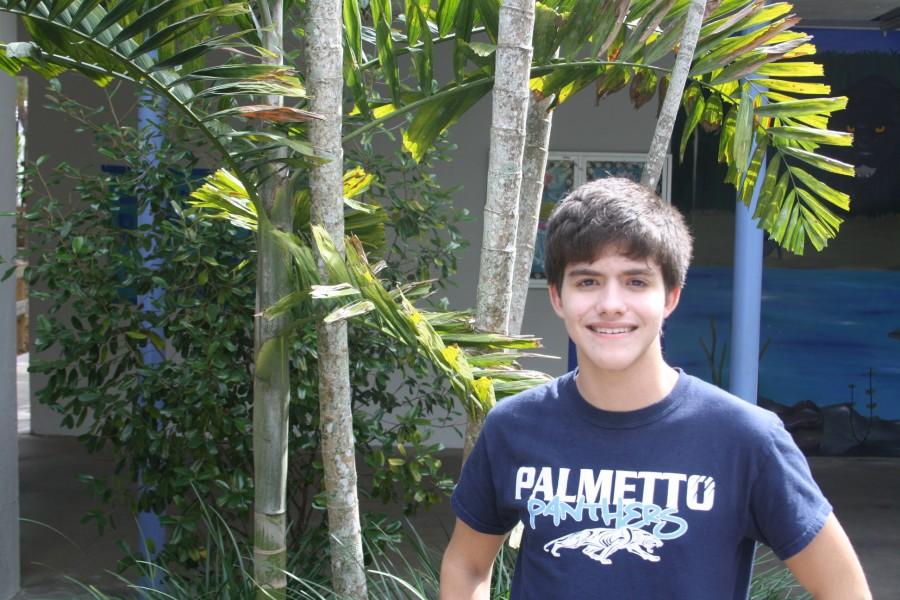 Defeating The Emperor
March 3, 2016
Sophomore Michael Fein recently won The Inaugural Bristol-Myers Squibb Emperor Science Award for an essay he submitted explaining why he thought scientific research is vital in finding a cure for cancer. In his writing, Fein states that immuno-oncology, the use of the immune system to treat cancer, might be the answer to this cure. "This Emperor Needs New Clothes!" was one of 100 winning entries amongst a field of over 1,200 competitors. Fein was encouraged to write the essay when Advanced Placement environmental science teacher, Pamela Shlachtman, gave all her students an opportunity to enter.
"He really addressed the topic. He addressed cancer issues in the future and how you might handle these kind of things on a number of different levels," Shlachtman said. "His father gave him a good perspective because he is seeing theoretical and now real world application."
Influenced by his father, who is an oncologist, Fein developed his love for the sciences during visits to Guatemala in which he has volunteered to help the ill on two separate occasions.
"We go to an orphanage that was founded by a close friend of a doctor at the University of Miami and this doctor took an interest in making an annual clinic," Fein said. "We bring in about 1,000 patients and we work with 10 doctors and 70 volunteers and to treat these patients with the best resources we have."
Aside from his help on site in his previous trips, Fein has begun to contribute to this year's trip by claiming two pharmaceutical sponsors for the clinic: Johnson & Johnson and Smartypants.
When he is not pursuing medicinal or scientific endeavors, Fein can be found at home building go karts, amphibious cars, rat-trap boats and electromagnetic microwave transformers; all for his participation in the Odyssey of the Mind (OM), a creative problem-solving international competition he has partaken in since the first grade with his peers.  
"The emphasis on creativity has made me very reluctant to accept proposed ideas," sophomore and OM teammate Louis Moon said. "I'm very inclined to throw in seemingly absurd propositions which oftentimes uncovers new ideas previously not thought of."
This spontaneous and alternate learning approach has helped Fein look at world problems such as cancer as he would a multiple choice question, identifying and considering every option before making his choice.
Due to his experiences in Guatemala, OM and the influence of his father, Fein has a good idea of what his future holds after high school, one that interconnects his main passions.
 "I want to become a doctor and I want to double-major, get an MD to help other people and an MBA so I could become a business-savvy and so I can one day either run my own practice or become an administrator."
Before he graduates from Palmetto in 2018, Fein hopes to ensure his acceptance into his top choice university: Harvard University. During his junior and senior year, Fein plans to continue his role in four clubs at MPSH, Odyssey of the Mind and a pending Silver Knight project, which will focus on his work in Guatemala.
As a result of winning the award, Fein won a $1500 check, a Dell Chromebook 11 and the opportunity to study at the Dana-Farber Center at the Harvard Cancer Center over the summer, where he will be able to experience life at his dream school and, more importantly, to further his interest in finding a cure for the disease that has hurt so many.
"I've had one relative, my grandma, pass from cancer. I have firsthand experience at the devastation caused by cancer and by current therapies. Cancer is a literal attack of time, cells mutate into cancer over time and these mutations are random," Fein said. "Society must work together to beat this emperor of maladies. Anybody, anybody on earth independent of genes, of exercise, of diet, is susceptible to its wrath."