All genders welcome
November 1, 2015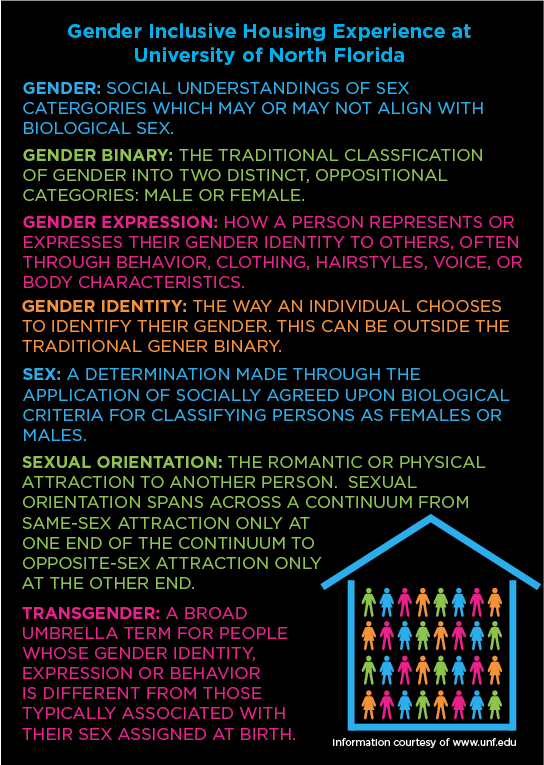 Gender inclusive housing allows students regardless of their gender, gender identity or gender preference to live together in residence halls. This recent development in the University of Northern Florida's (UNF) housing policy claims to offer various gender-inclusive residency options to ensure that on campus living translates into a supportive space for students of all gender expressions. The Gender Inclusive Housing Experience (GIHE) focuses primarily on community, support, advocacy and learning.
GIHE announced that they intend to maintain an unprecedented commitment to nurturing student success within the diverse and supportive campus culture. GIHE welcomes the complex identities of every resident while acknowledging gender expansiveness. The organization works closely with the LGBT Resource Center and various UNF student groups to create a respectful environment. Beginning in the Fall term of 2015, students were given the option to identify as transgender or gender non-conforming- they were also able to specify the preferred gender of their roommate, confidentially.  
"If you wouldn't want a woman to live in a man's dorm, then why would you want a transgender woman to live in a man's dorm?" sophomore Melanie Ramirez said. "If the person identifies as a female, they should be allowed to stay in a woman's dorm. The same goes for the other way around."
UNF's official website also provides definitions for terms such as gender binary, gender expression, thus actively promoting general awareness and knowledge of the LGBT community. UNF's LGBT resource center also provides links to further sources, such as a list of gender neutral bathrooms on campus and multiple ways students could get involved, whether through finding support or joining an advocacy group.
With a total of four colleges in Florida currently offering gender inclusive housing, (UNF, Stetson University, Ringling College of Art and Design and Eckerd college) it appears to be a step towards equality which will have lasting impacts.