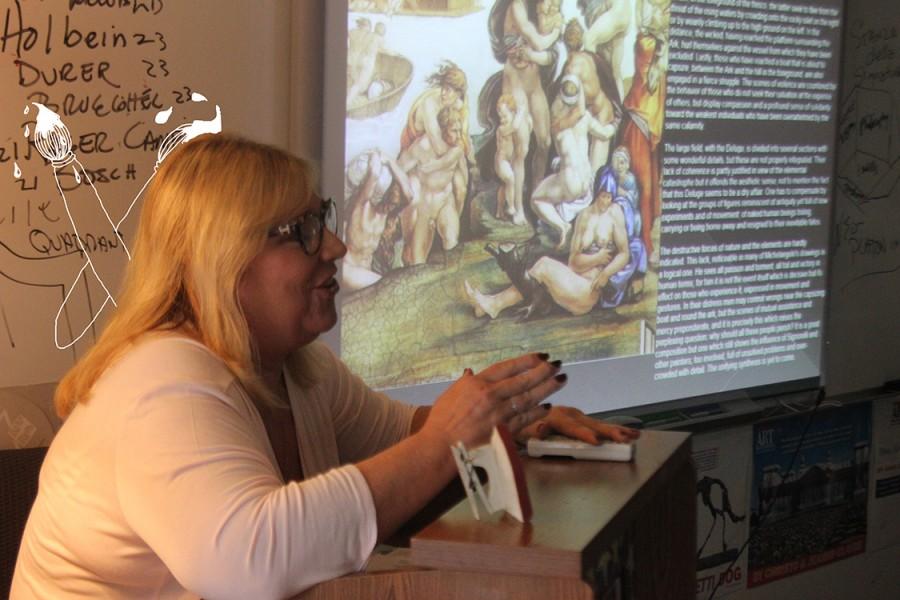 Meet Mrs. Falagan: A life of art in all forms
December 8, 2015
A love of art defines Art History teacher Margarita Falagan's life. Influenced by her father and grandfather, both of whom were artists, Falagan quickly realized that creative freedom was her passion in life as a child in revolutionary Cuba.
The impact of living under communist rule weighed heavily on Falagan's family. The government confiscated valuable artworks from her family's private collection, including several valuable Miró's (Spanish surrealist artist). Nonetheless, her family recovered thanks to her father's work as both a mural painter as well a restaurateur.
Thanks to her father's steady income, Falagan and her family moved to the United States in 1961 and begin a new life in Miami, where she would hone her love for art. Ironically, as a student at Florida International University (FIU), she earned an A in every class except Art History where she received a B, due to the course's rigorous content. Despite her grade in the class, Falagan was determined to pursue her passion.
After being a homemaker for many years, Falagan decided to become a silent partner in an art gallery which sells Cuban art.
In 1992, she decided to focus on teaching others about Art History and became a teacher, maintaining a reduced role the business of selling art. 23 years later, Falagan still expresses her love for teaching.
"This is my sandbox; this is where I come to play every day," Falagan said. "I can't imagine doing anything else."
While Falagan's passion for teaching is undeniable still today, she nearly retired at the end of last school year due to the course's redesign.
"I hate the redesign because [The College Board] has shortened over 1500 pieces down to 250," Falagan said. "So I resent that I am not supposed to be teaching so many important pieces."
After being convinced by many to stay, Falagan continues to teach and inspire students to appreciate artworks and their meanings, using her lifelong experience in the field and extensive traveling to prepare students at Palmetto for the AP Art History exam.
"She has adjusted to the redesign very well and has adapted her course in such a way that is quite pleasing because, in fact, it has been altered to meet high standards," sophomore Scott Simmons said.
Outside of teaching and her involvement in selling works of art, Falagan enjoys painting and imitating the masters. Inspired by American modernist artist Georgia O'Keefe and influential Spanish Cubist artist Pablo Picasso (who she shares a birthday with), Falagan has even sold her own original pieces.
Despite having an impressive resume in the arts, Mrs. Falagan still considers herself a student of the arts.
"Art is always a learning experience. You always learn from the last piece you did and the next piece you will do."