True Life: I'm in the band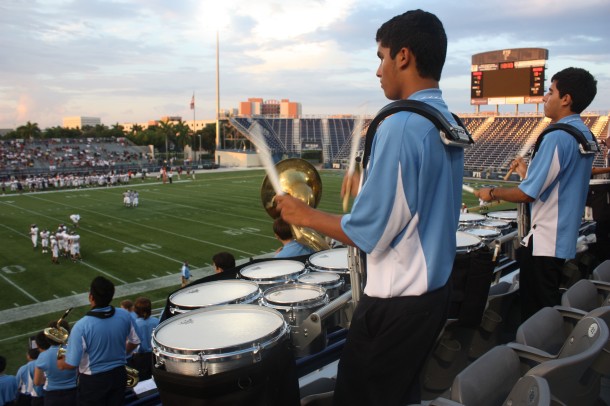 Jonathan Perez, Staff Writer
October 8, 2010
Miami Palmetto Senior High is known for its academics, sports,  organizations and students, but one of the aspects that tends to be overlooked is its band. The members of the band practice extremely hard, spending hours and hours after school practicing the music and working on their routines for performances at football games, pep rallies and competitions.
Palmetto's Band is divided into three parts: Jazz, Symphonic, and Concert. The Concert Band is comprised of intermediate players, and Symphonic Band is comprised of the advanced players. The Marching Band involves both the Symphonic and Concert Band.
Last year, Marching Band won Best Brass in Class for the Falcon Sound Invitational held at Flannigan High School. The Brass Choir won Superior at Regionals, and all three bands won Excellent at Regionals. The bands displayed their skill at such a high level in this competition, and their hard work paid off. Palmetto also received Best Brass in the A division at John I Lenard.
"Competition is nerve-racking, but you're all pumped up," junior Danni Contreas said. "You know that you're there, and you know what you are there for."
All of these awards were won due to the hard work and dedication of the band. Marching Band practices their drills on the field from 2:20 to 5:30 p.m. on Mondays and Wednesdays, and on Thursdays practice sectionals.
During the summer, the band practices just as  hard. Band camp takes place during the last month of summer. During the summer, practices took place from 8 a.m. to 5 p.m. They spend half of that time on the field, and the other half inside practicing the songs. During the regular school year, the band practices the songs throughout the week in their class period. Outside on the field, the band works on their form and the visual performance for the football games.
The practices on the field need to flow, and the students must work as a team in order for the drill to be a  great success. Each person must follow the rhythm; if they do  not, the performance will fail.
With the amount of time put into band practices, it can be difficult for students to manage all of their activities and studies. However, students like junior Kara Post, the Drum Major, has been in Marching Band for two years and believes it is easier for her to manage her time because she knows what to expect.
"The schedule is kind of hard, but I'm used to it," Post said. "You can not procrastinate."
Many of the students in Marching Band also take music classes that help them improve on their skills.  Contreas, for example, plays front ensemble xylophone and auxiliary percussion and takes Jazz Band and AP Music Theory.
Senior Robert Schoolar-Rose has been in band for three years, and is taking Symphonic Band, Jazz Band, and AP Music Theory.
"It's a lot of music to play, and a lot of music to practice, but I enjoy it so it's not hard for me," Schoolar-Rose said.
Band does not only increase each student's skills as musicians, but also prepares them for other challenging experiences. Marching Band helps the students stay focused for other concerts and competitions. Schoolar- Rose states that after marching band, he became a more serious player, and he was not as nervous to play in concerts as the first time.
"In music theory we are learning how music works, because we want a deeper meaning of music," Robert Longfield, the Orchestra and AP Music Theory teacher, said. "Professional musicians know different parts that fit together in order to have an intelligent and educational performance."