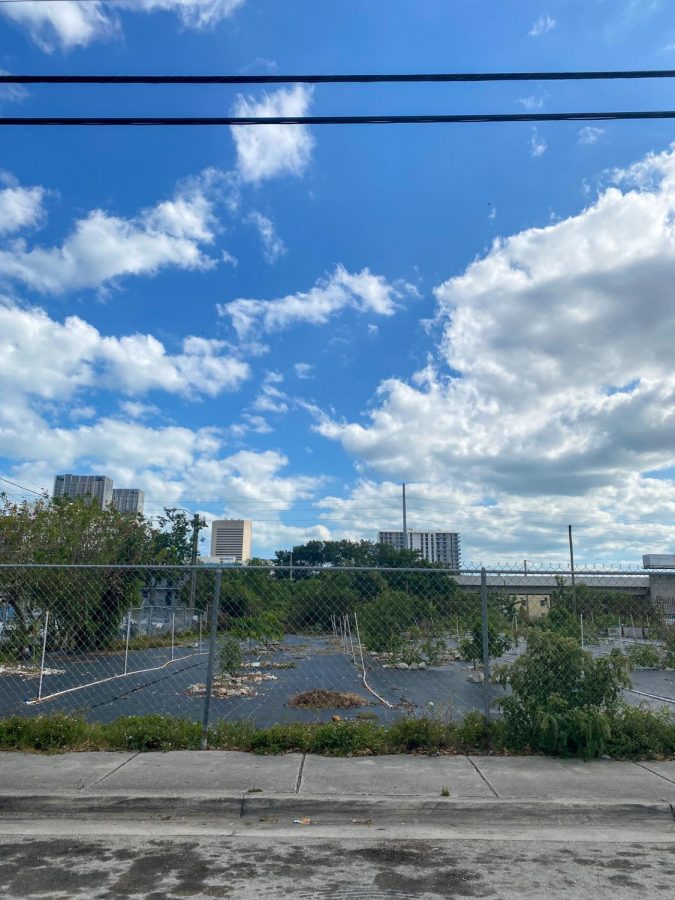 Isabel Lopez
In 2018, Green Haven Project started growing their community garden in the heart of Overtown. Although initially intended to provide the community with homegrown fresh produce, the haven has developed into a true oasis for Overtown.
Laying the groundwork a year before publicly announcing the project, president David Roper worked on the urban farm with no previous knowledge of the field. After weeks spent watching YouTube videos and researching methods and information about farming, Green Haven Project began to see immense progress.
Roper has been involved with social justice and community activism for over six years, and has taken on responsibility for leading reform regarding the Black, Hispanic and Latinx communities in Miami. Through his involvement leading various protests, including the George Floyd demonstrations, along with his knowledge and experience of the Black community, Roper has had the opportunity to work with a team and gauge the areas that need attention. 
"We are actively into urban farming, which is just another process of all of the traumatic and horrible things that go on in this country as far as when it comes to issues that relate to the Black and Brown communities," Roper said.
Overtown faces many systemic and prolonged issues of inequality that the Green Haven Project  tries to combat by placing food insecurity at the forefront. This neighborhood in Miami is classified as a food desert, a region where people have limited access to healthy, affordable food, such as fresh produce. By growing organic produce, ranging from tomatoes to green onions, in an area surrounded by apartment complexes, people now have access to free, nutritious food. 
The nonprofit organization emphasizes a high level of engagement with the Overtown community in order to truly determine what people need. Roper and his team ensure that the individuals they interact with receive attention and care without feeling the need to return the favor. 
"As we evolved and we progressed in getting to know our community by hand, and understanding the demographics of what's going on in that specific community," Roper said. "So, we did surveys of the people. We asked and communicated with people. And…what came out of that is not only providing fresh fruits and vegetables to the community, but also homeless feedings and keeping clothing and dry food, and hygiene products and stuff, stored so if somebody was going through a rough time in the house, they can come."
Green Haven Project's garden is open six days a week, allowing people in need of resources to have constant access to what they need and allow volunteers to help with various tasks, such as planting the produce or cleaning out the weeds, on an almost-daily basis. 
Miami Palmetto Senior High School junior Imani Mitchell has volunteered with Green Haven Project since the summer of 2020, and continues to help with the garden frequently. As a regular volunteer, Mitchell has seen the garden grow into a flourishing haven, and has become more aware of the issues that some people in Miami face. 
"I knew that food deserts existed, but it didn't really register in my mind that so close to home like there literally are food deserts," Mitchell said. "And still, through volunteering with them and learning about how Overtown is a food desert and how people in that community don't have access to that many things, it really opened my eyes, like, wow,  people [are] literally struggling right next to me."
As the Green Haven Project continues to develop and aid in food distribution in Overtown, the COVID-19 pandemic has exacerbated food insecurity in Miami and other parts of the nation.. The garden has remained consistent with their services, and continued to allow people to come and interact with the space due to its outdoor, open location. Jenneva Clauss, volunteer and first-year fellow with Repair the World Miami, began working with Green Haven Project this summer in the midst of the pandemic.
"Doing food distribution throughout the pandemic has taught me how many people are truly food insecure, because people are willing to wait like three, four hours in a car line for food. And that doesn't even include people who might not have access to cars to go through those lines for food," Clauss said. "So this has really taught me firsthand about the importance of providing food for people and making it accessible, because people are definitely in hard situations, I'm sure before the pandemic, but especially because of the pandemic, as well."
The leadership team of Green Haven Project and the numerous volunteers have truly created a safe space for Overtown and have witnessed much engagement with the children in the neighborhood. Acting as a place for recreation, learning and safety, the community garden remains a constant refuge. 
Roper recognized the impact that Green Haven has had on the youth of Overtown and developed programs in order to make them feel uplifted in unique ways that would not have been possible without their involvement.
"We just recently had our second field trip where there were a couple of young men that did good in school…They got good grades and stuff. We've rewarded them by taking them to a go-kart and action park…The youth can see something different, outside of this stuff that they see all the time," Roper said.
With the garden's evolution into something larger than solely providing food for the community, Roper has plans to expand the non-profit. The oasis that they have created affects Overtown in a novel way, creating a larger sense of community and fostering love in the neighborhood.
"We impact the community through the trust that they have in us, and the belief that they have in us. We don't just do urban farming, we do way more than that. And we tried to make sure that the people that are there, that live there, know that they can come to us for anything," Roper said. "They don't have to feel like they're alone; there are people out here that look like them, that they can give and not want anything in return."