Security guard is jack of all school trades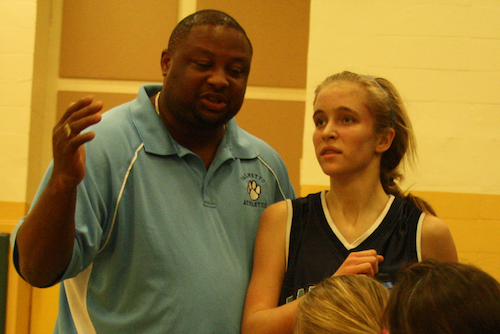 Guard Donny Martin helps in and out of schools activities
"Yo Donny! What's up man?" One of the many greetings Palmetto security guard Donny Martin receives on a regular basis from students and teachers alike.
Martin is the head of security at Palmetto and takes pride in ensuring he and his fellow guards keep the school safe.
As the head of security, Martin is the leader of the security at Palmetto and guides his staff towards success, as he does for new security guard Luis Sallie.
"I have a good relationship with all of the security at this school," Sallie said. "Donny has showed me the ropes here and I truly appreciate him for making my job easier."
Through Martin's tenure at Palmetto, he has developed a personal relationship with fellow guard Jesse Wiggins.
"He is a great person," Wiggins said. "He's like a nephew to me and will do anything to help someone out."
Martin has worked at Palmetto for the past 11 years as a security guard. In addition to that, coaches football, girl's junior varsity basketball, and track and field coaches. Martin, as a student at South Miami, played football and apparently has kept his passion for these sports alive.
"I have always loved sports and I love kids," Martin said. "Coaching gives me an opportunity to work with both."
Current English teacher Loni Perse was once a teacher at South Miami and taught Martin when he was a sophomore in high school.
"Donny was a wonderful student of mine," Perse said. "He was hard working and very conscientious in my class."
Martin does more than watch over the school hallways; he works as a supervisor at the Dade County Youth Fair, enjoys fishing with friends and going on road trips. Martin has traveled the roads to North and South Carolina, Washington D.C., West Virginia, Tennessee, Georgia, and Central Florida.
"Even though it may seem like it, I don't live at school; I like to have fun too."
Martin's love for children goes beyond watching over them during school hours; through both the Youth Fair and Palmetto's African Heritage club he was has helped raise money for children in Haiti and children with Diabetes. According to Martin, children make the world go round and it is important to make sure they grow up correctly so they can live successful lives.
Martin has developed multiple friendships at Palmetto with individuals on the administration, his players and with students.
"I remember his speech at the first day of practice freshman year," junior Albert Liu said. "He said, 'don't be scared now! Today we separate the men from the boys.'"
One of Martin's basketball players also thinks highly of him- Freshman Mackenzie Gusman.
Martin knows both of Gusman's older siblings and is keeping tradition by being an influential person in her life on and off the court.
"She truly appreciates everything I do for her," Martin said. "I've never had a player say thank you so much to me before."
Martin can be seen patrolling the hallways, laughing with his friends, or coaching basketball. In the end, one thing can be agreed upon: Martin's undeniable friendliness has made him who he is today.

Hang on for a minute...we're trying to find some more stories you might like.