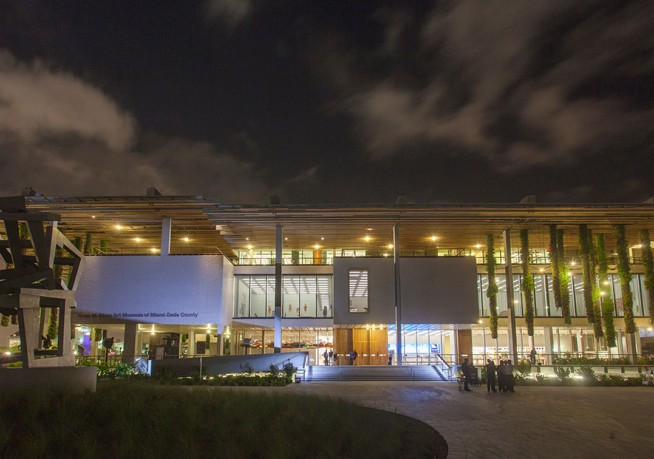 Isabel Lopez
Recently, Miami has begun reopening tourist attractions in spite of the pandemic. Pérez Art Museum Miami reopened on Nov. 5 for a members' preview and Nov. 7 to the general public. Along with following COVID-19 guidelines, the museum agrees to implement new regulations for the sake of the public's health.
First and foremost, the museum prioritizes the safety and health of everyone attending the museum. Due to this, PAMM modified their hours of operations and will remain open on Thursdays from 2 p.m. to 9 p.m. and Fridays through Sundays from 11 a.m. to 6 p.m., with the exception of Thanksgiving Day, Christmas Day and any emergencies within Miami-Dade County.    
The museum has also introduced new regulations for reopenings. Masks or any face covering must be worn at all times as a requirement for everyone in the museum ages two and older, with the exception of those with chronic pre-existing conditions. Patrons must social distance and remain at least six feet apart, with staff adding floor markings and other physical notices throughout the building to remind visitors. Staff have also implemented one-way pathways throughout the museum in order to prevent bumping into other guests. Hand-sanitizing stations distributed throughout the entire museum act as encouragement to guests to cleanse hands frequently. Lastly, PAMM upgraded their cleaning areas, as they have prepared to cleanse the museum throughout the day to decontaminate areas and keep visitors safe. For those unable to visit the museum, PAMM designed a digital museum, which offers a virtual version of what someone would experience in person. 
Lead Teaching Artist Darwin Rodriguez attended the first day of PAMM's reopening on Nov. 5. Rodriguez explains how all over the museum, there are stickers to remind others of social distancing.
"The stickers draw your attention for what they need to tell you, and I don't think they take away from the experience looking at the artwork," Rodriguez said.
At this time, PAMM advises members and visitors to book tickets online for safety reasons. In addition, these tickets come in time slots so staff can limit the amount of people in the building at any given time. For members, children six and under, active U.S. military and veterans, health care professionals, first responders and students with a pass (that comes with an additional adult guest), admission is free. Seniors (62+ with ID), youth (7-18) and students (with ID) pay $12 for admission and adults pay $16. PAMM provides a student pass for students who currently attend a Miami-Dade County Public School from Pre-K to 12th. To enroll, click here. 
PAMM, founded in 1984, was initially called the Center for the Fine Arts and then renamed the Miami Art Museum in 1996. In 2013, the museum's name changed to Jorge M. Pérez Art Museum in commemoration of Jorge Pérez, a business leader and philanthropist of the arts who contributed $40 million into the museum, according to PAMM. The museum aims to offer their diverse community the opportunity  to witness a variety of exhibitions and opportunities. PAMM encourages others to express their views on art, such as by interacting with contemporary and modern art. To fulfill their goals of accumulating international art of the 20th and 21st centuries, PAMM also includes their own gift store, an indoor dining restaurant called Verde and a Biscayne Bay outdoor view where one can relax and hang out by the gardens.
Furthermore, the museum offers a program for creative teens. PAMM Teen Arts Council operates as a program whose mission entails elaborating and educating others in art. By encouraging teens to interact, PTAC creates safe and unique events for one to fulfill their creativity and self-exploration. PAMM teens perform tasks such as serving as ambassadors for PAMM, designating a collaboration with organizations and progressing leadership throughout art programs. This program is designed for high school students in grades 10 to 12. PTAC 2020-2021 started on Oct. 15. For more information regarding this program, contact [email protected]
To get their latest updates, follow PAMM's Instagram @pamm and PTAC's @pammteen.
For more information about PAMM and upcoming events, click here.