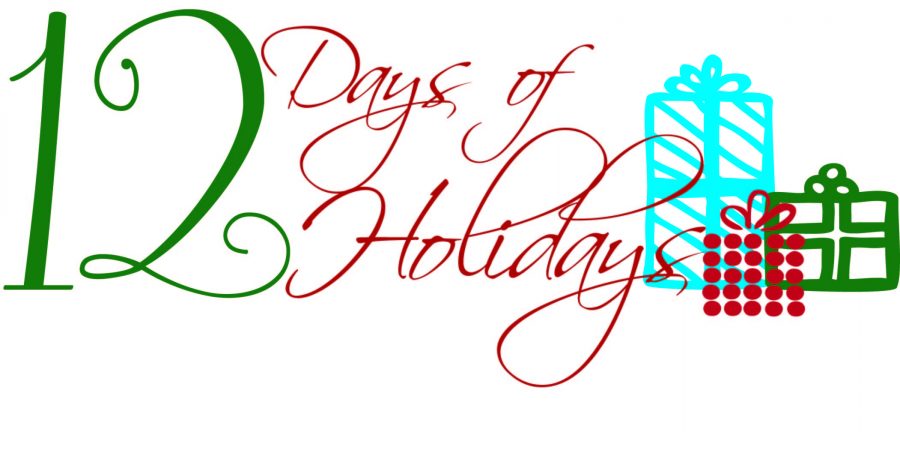 "Elf":
The untimely classic "Elf" is one of the best holiday movies for families. "Elf"revolves around Buddy the Elf, played by Will Ferrell, trying to form a bond with his father and reignite Christmas cheer in New York during Christmas. Watching Buddy adapt to his new life in New York is not only hilarious, but heartwarming, as well. The movie gets you into the Christmas spirit and gives you a warm, nostalgic feeling. "Elf" is a happy, good spirited must-watch during the holiday season.
"Four Christmases":
A high-class San Francisco couple, Kate and Brad feel dissatisfied with their marriage and get snowed in on Christmas. The couple ends up visiting their parents they planned on avoiding. Traumatizing childhood memories and pre-teen embarrassing stories fill the reunions. While Brad focuses on how much longer he has to put up with his parents, Kate focuses more on her collapsing marriage and how to fix it, and realizes that her family was not as bad as she thought.
"It's a Wonderful Life" :
"It's a Wonderful Life" starts off with the main character, George Bailey, a worn out small-town man who has grown up putting others before himself. Throughout his whole life George has wanted to leave his town, but because of his giving personality and the circumstances he has faced, he never received the opportunity. When the monotony becomes too much for him, he almost jumps off a bridge, but his guardian angel appears and reveals the alternate lives of all the people of Bedford he helped if he had left. Although it may seem like a sad movie, the story has great meaning and can be timelessly enjoyed every holiday season.
"The Nightmare Before Christmas":
Throughout "The Nightmare Before Christmas," Jack Skellington, a skeleton from Halloween Town, grows bored of constantly scaring kids and doing the same monotonous thing every Halloween. One day, he finds his way into Christmas Town and becomes obsessed with the holiday. Jack then tries to convince the people of Halloween Town to celebrate Christmas instead of Halloween. When the citizens cannot seem to get it right, things begin to go south, and they almost ruin Christmas all the little kids before someone steps in to save it.
"A Christmas Carol":
In "A Christmas Carol," the angry old miser Ebenezer Scrooge wakes up on Christmas Eve night by the ghost of his late wife. She explains to him that how he acts in this life affects what will happen for them in the afterlife. Ghosts of his past, present and future then visit him. The ghosts show him the timeline of his life, from his content days of youth, to letting money take over his life and ultimately becoming an bitter, selfish person during the present, and future if he keeps living that way. Scrooge must make a decision as to whether he will change his ways or keep living the way this way.
"Christmas with the Kranks":
"Christmas with the Kranks," an all-time classic available on Netflix, starring Tim Allen as Luther Krank and his wife played as Jamie Lee Curtis, came out in 2004. "Skipping Christmas," a book by John Grisham, inspired this film. When their daughter takes a vacation, the couple plots to skip Christmas and avoid the extravagant holiday season. Yet when their daughter Blair comes home as a surprise with her fiance, they must celebrate Christmas 12 hours before Christmas Eve.
"The Polar Express":
"The Polar Express," the animated film featuring the voice of Tom Hanks, takes the audience through the adventure of a little boy, without mentioning his name, on Christmas eve. He had a difficult time believing in Santa Claus; but when Christmas eve rolls around and a peculiar train heads for the North Pole, he decides to seize the day and board it, embarking on an exhilarating journey. Once he reaches the North Pole, Santa presents him with the first gift of Christmas, a bell that only rings for those who believe in Santa that he ends up losing. At the dawn of Christmas, when he unwraps his gifts, he discovers the bell he lost on Christmas eve, with its ring symbolizing his abiding faith in Santa.
"How the Grinch Stole Christmas":
Originally written by the creative mastermind, Dr. Seuss, the children's picture book was turned into a real life movie. Premiering in 2000, Jim Carrey dresses as a green, furry grinch and attempts to ruin Christmas for the town of Whoville, which takes the holidays very seriously. The Grinch's frustration derives from his traumatic childhood bullying for his looks. On Christmas Eve, he plots to steal all the presents from everyone in Whoville to ruin Christmas. After he realizes this will not stop the citizens of Whoville, he has a realization about the meaning of Christmas and decides to return the gifts. The Whos end up respecting the Grinch, who now appreciates Christmas.
"Home Alone"
Released over 25 years ago, "Home Alone" remains as a classic through the story of an 8-year-old boy, Kevin, forgotten by his family vacationing to Paris for Christmas. When the clever boy perceives that two foolish robbers, Harry and Marv, plot to steal from his home on Christmas, instead of being frightened, Kevin decides to handle the situation himself. Besides setting out cookies for Santa, he assembles traps around his home, preventing Harry and Marv from succeeding, allowing the cops to catch them. When his family finally returns home from Paris, Kevin shares his story and forgives his family for forgetting him– a Christmas miracle in itself.
The Santa Clause
Tim Allen, who kills Santa by mistake on Christmas Eve, ends up completing Santa's missions on that Christmas Eve. He ends up in the North Pole, learning how to undertake the role of being Santa Claus. The story follows when Scott (Tim Allen) arrives home, he experiences difficulty explaining to his loved ones that he is now Santa Claus. This movie is the perfect film to watch with the whole family and contains two sequels.