Prior Panthers become present successes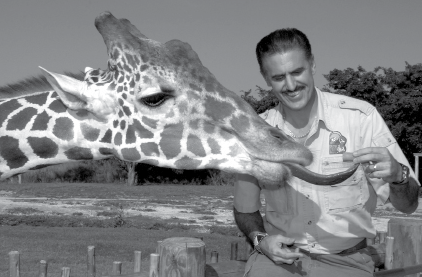 Michael Tandlich and Carlos Carreras, Staff Writers
October 7, 2010
Throughout Miami Palmetto Senior High School's 52 years of operation, numerous Panthers have graduated to become like Ron Magill and Alexandra Flinn – individuals who epitomize success.
Ron Magill has encountered many life-threatening experiences—a crocodile bit him, a hippopotamus struck his boat, an elephant attacked his car in the wild. Nevertheless, Magill, an internationally recognized
zoologist with over 30 years of expertise, has a burning passion for wildlife and currently holds the position of Director  of  Communications and Media Relations at Zoo Miami.
"Ever since I was a kid, as early as I can remember, I always loved animals," Magill said. "I used to watch this show called 'Wild Kingdom' every Sunday at 7:30 p.m. I would try not to miss that show no matter what."
A 1977 Palmetto graduate, Magill has produced numerous  award-winning documentaries and photographs which have appeared in famous art galleries and museums across the globe, including the Smithsonian Museum of Natural History located in Washington, D.C. He has traveled to Central and South America and to Africa over 40 times to work with wildlife and to speak on its behalf.
"I feel very fortunate to have been able to raise millions of dollars for wildlife conservation programs and education programs," Magill said. "It is something that really means a lot to me."
Ron Magill has made many appearances on a variety of  famous programs including the following: "National Geographic Explorer," "CBS' The Early Show," "Live with Regis," "NBC News Nightly," "Good Morning America,"  "The Late Show with David Letterman," and "Dateline." Magill has made appearances on internaionally-recognized Spanish television programs too, including "Sabado Gigante" and "Despierta America."
Magill believes that he would currently be nowhere near as successful without the help of Miami Palmetto Senior High.
"My years at Palmetto were the most important and influential years of my life with regards to who I am today," Magill said. "It is at Palmetto Senior High School where I developed the confidence and discipline that I needed to succeed in my profession."
On the other end of the spectrum lies Alexandra Flinn who, rather than filming and photographing her wealth of experiences, takes her audience on adventures through her distinctive manipulation of language.
An author for young adult audiences, Flinn has written and published seven novels and received an array of prestigious awards for her works of art throughout her constantly budding career. She believes that reading high-quality literature provided the essential knowledge she needed "for being a successful writer."
"I read a lot of really good books in my language arts classes at Palmetto," Flinn said. "My favorites books were 'Wuthering Heights' and 'The Crucible.'"
Flinn also took drama courses, which she believes "is really helpful in writing because it gives you an ear for dialogue."
She majored in music at the  University of Miami and then went to law school, which she says became the inspiration for her first novel, laying the foundation to her skyscraper of success. "Breathing Underwater," written in 2001, develops ideas associated with dating, violence and self-discovery.
Her most famous novel, "Beastly"- mirroring the classic fairy-tale "Beauty and the Beast" with a contemporary spin- has been adapted into a major motion picture, slotted to hit theaters around the country on March 18, 2011 and starring the prominent Vanessa Hudgens.
Overall, Flinn's novels make it apparent that she holds a real   passion for young-adult literature.
"I think I write for young-adults because I never quite got over being one," Flinn said. "In my mind, I am still 13-years-old, running laps on the athletic field, wearing this really baggy white gym suit. I'm continually amazed at the idea that I have a checking account and a mortgage now."
Luckily for Panthers with a writing forte, Alexandra Flinn will  be conducting two writing workshops in Miami.
The first will take place on Friday, October 22 at the Pinecrest Branch Library, and the second workshop on Saturday, October 23 at the Kendall Branch Library.
Regardless of who enters the school, Palmetto will heighten the potential for success that lies within every Panther. If heart and brains are put into assignments, Palmetto's Hall of Fame stands not too far away.
"The hope is that the students will realize this while they are still in high school and make the most of it," Magill said. "I am and always will be a proud Palmetto Panther!"