President-Elect Biden Names All-Female Senior White House Communications Team
On Nov. 29, President-Elect Joseph R. Biden and Vice President-Elect Kamala Harris made a historic decision with their appointment of an all-female White House senior communications team. 
Building on a promise to create a government that represents the diversity of America, Biden has begun to build a cabinet and administration that includes individuals of various backgrounds, races, ethnicities, genders and upbringings. 
Alongside Harris, the following women make history as not only the first all-female senior White House communications team, but also as a diverse group of women representing those of various backgrounds. 
"We need something else to serve the needs of such a diverse country and I think a diverse female led [communications team] is definitely a positive step in reforming our government," The Loop News founder and Palmetto junior Cayetana Jaramillo said. "I've always believed that we should have a diverse set of representatives that actually are representative of the people that they serve." 
Calling upon officials from President Barack H. Obama's administration, former Obama White House communications director, spokesperson for the State Department, White House communications director, White House deputy communications director and White House deputy press secretary Jen Psaki has been named as Biden's press secretary. Kate Bedingfield, Biden's communications director during his tenure as Vice President, as well as the deputy campaign manager and communications director for the Biden-Harris campaign, was chosen as Biden's White House communications director. 
Looking to include many of his top campaign personnel in his administration, Biden has also named Pili Tobar, the communications director for coalitions on the Biden-Harris campaign and deputy director of America's Voice, an immigration reform advocacy group, as the deputy White House communications director. 
As for Harris, Karine Jean-Pierre, chief of staff to Harris during the Biden-Harris campaign and former chief public affairs officer of MoveOn.org, has been named principal deputy press secretary. Symone Sanders, national press secretary for Vermont Senator Bernie Sanders's 2016 presidential campaign and a senior advisor to Biden on the presidential campaign, will serve in the capacity as both senior advisor and chief spokesperson to Harris. Former aide to Speaker of the House Nancy Pelosi and senior advisor to the Biden-Harris campaign Ashley Etienne has also received the position of communications director for Harris. 
Dr. Jill Biden, the incoming First Lady, has also named some key members of her staff, including former employee for Biden during his career as a senator, press secretary to Biden during his tenure as Vice President and senior advisor to the Biden-Harris campaign Elizabeth Alexander, who received the position of communications director in First Lady Jill Biden's senior staff.
The decision to select a communications team composed entirely of women not only sets the precedent that women can hold such senior positions in the White House, but also inspires the next generation of girls and young women to seek positions of power. 
"I think it will open up a lot of opportunities for young women who want to get involved in different things," Women of Tomorrow member and junior Madison Morris said. "It's a good way for us to begin the process of everyone being equal in the different positions that they are offered."
About the Writer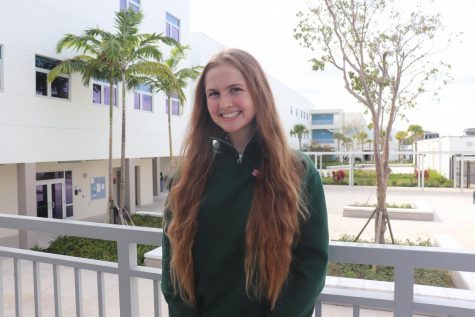 Angelina Astic, Copy Editor
Angelina Astic is a Junior and Copy Editor. This is her first year on the staff and she looks to improve the variety of stories and increase interest in...