Palmetto Male Faculty Inducted into 5,000 Role Models
As the entire male Palmetto staff lines the stage for the 5000 Role Models new mentor induction ceremony, football players place their new ties on their necks. The red tie, with a bigger right hand next to a smaller left hand, shines atop the crisp white dress shirts they flaunt. On November 12, the Palmetto faculty filled the auditorium to watch the induction of the male faculty as mentors of the 5000 Role Models organization. Dressing appropriately and looking the part is important so members of the club and mentors are encouraged to wear them every Wednesday. 
The tie represents 5000 Role Models— a dropout prevention mentoring program based in Miami-Dade County. Congresswoman and founder Frederica S. Wilson asked the participating schools in Miami-Dade county to induct all male staff as mentors to show the staff agrees with the mission to mentor all of their students, as explained by Palmetto principal Victoria Dobbs.
"It was amazing to see all male staff members onstage; at least for the most part over 47 males onstage out of 55 male staff members," Palmetto club sponsor Micheal Reynolds said.  "I'm a believer that no one person is solely responsible for raising a child. It's that old saying it takes a village to raise a child."
The program won numerous awards including M-DCPS Board Magna National Award (1998), A Program That Works (2007), and Incorporated Southern Area Services to Youth Award (2013). Former President Barack Obama credits the program in inspiring his "My Brother's Keeper" project. 
"I saw the opportunity for a scholarship and to better myself so I joined so it keeps me out of trouble basically…if I wasn't in Role Models I'd be more reckless and I'd think about my actions and consequences less," second year 5000 Role Models member, sophomore Isaac Williams said.
The program, then called 500 African American Male Role Models of Excellence, started in March 1993. In 1994 the name was changed to the 500 Role Models of Excellence Project, then to the 5000 Role Models of Excellence Project due to increasing participation. Wilson noticed a pattern of young men of color getting incarcerated, entering the drug trade or dropping out of school. She started the program as a way to prevent those outcomes and help young men lead better lives. 
"The goal is to keep these kids in school or in  higher education, on a better path, to stop them from going from the schoolhouse to the jail house," Chief of growth and development Abduni Morris said.
The program was featured on "The Les Brown Show" during its first year. It has spread to Broward, Duval, and Pinellas counties and Detroit, Michigan. With over 8,000 participants, the program is in 37 elementary schools, 35 middle schools/K-8 centers, 33 high schools in Miami-Dade county. 
"I feel great. I used to run 5000 Role Models a long time ago at a different school," said inductee and Palmetto teacher Stephen Leverett. "I have not been a part of it here because I've been too busy. But I, I believe i in the program very much."
About the Writer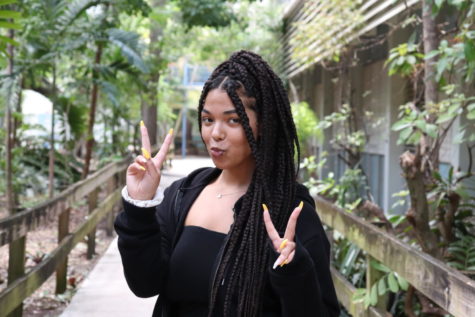 Mobolade Presley, Staff Writer
Mobolade is a sophomore and staff writer. This is her first year on staff, and she looks to improve on her writing flexibility. Outside of newspaper she...