MPSH Alumni Michael Epstein and Jamie Kolnick Run "Reach for the Stars" Scholarship in Honor of Brother Alan Epstein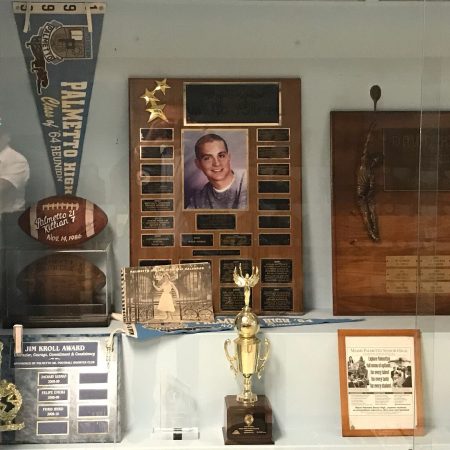 Miami Palmetto Senior High School alumni Alan Epstein passed away in a car accident only months after graduating high school in 1998, a tragedy to everyone who knew and loved him. 
"My brother was my everything. He was two years older than me. I pretty much followed in his footsteps; I always looked up to him. There's not a day that goes by that I don't think about him and think about what life would have been like if he were here," Alan's brother Michael Epstein said. 
Those who knew Alan described him as joyous, compassionate and giving. 
"He was the most incredible brother ever, he was so charismatic, sweet, loving and outgoing. He was just always so sweet and caring for me, and I really remember that," Alan's sister Jamie Epstein Kolnick said. "I wish that we had more time to develop our relationship."
To ensure his legacy stays alive forever, Alan's parents, Cheryl and Murray Epstein, and his two younger siblings started the Alan Epstein "Reach for the Stars" Foundation in 1998.
"On Alan's obituary it said in lieu of flowers, please donate to the Alan Epstein "Reach for the Stars" Foundation," Jamie said. "My mom would sell jewelry and these [Swarovski crystal] bracelets to raise money for the foundation. Then we began to have an annual event over Thanksgiving."
The scholarship benefits high school seniors who hope to attend college after graduating. Each year, approximately ten students are chosen to benefit from the scholarship, which provides not only monetary benefits, but also personal support and connections. 
"My parents would send letters to them year after year and write with them like pen pals," Jamie said. "It was really important to my mom and my dad to have these relationships with these students and to continue Alan's legacy through them."
Unfortunately, Murray Epstein passed away in 2004 after battling leukemia, and Cheryl Epstein passed away in 2009 after a fight with breast cancer. After their passing, both Jamie and Michael took over the foundation and expanded their goals to include donating to leukemia and breast cancer charities.
This year, due to the pandemic, the foundation was unable to hold its annual event over Thanksgiving weekend in person.
"This is the first year in 20 years that we weren't able to have an actual fundraising event," Michael said.
However, even without this yearly in person event, the foundation was still able to raise funds through a successful virtual event.
"To our surprise, it was one of our more profitable years; we were able to raise over $50,000," Michael said. "With those additional funds, we're able to help more people. Our goal is to use all of our resources and all of our additional
funding to be able to help as many students as possible."
Both Michael and Jamie encourage Palmetto students to apply for the scholarship when it reopens in early 2021. 
"We would love to see more applications come through from Palmetto students, as that is our alma mater," Jamie said. "We lived and breathed Palmetto, and so did Alan. Alan's spirit is on the walls. His spirit lives there because he only passed away five months after he graduated from Palmetto. I feel like it's where he really left his mark."
In addition to running the Reach for the Stars Foundation, Michael works as a financial advisor and lawyer, helping families plan for the unexpected and reach their financial goals. Jamie owns Jam With Jamie, a children's entertainment and education business that focuses on bringing music into children's lives.
The scholarship has left its mark on dozens of students since its inception, and will continue to do so in the future. Judges typically look for students who have overcome difficult situations like financial troubles or personal tragedies and have turned that into good. To learn more about the Alan Epstein "Reach for the Stars" Foundation, click here.
"[Alan] would be ecstatic," Michael said. "I think he would be so proud. Proud not only of Jamie and I, but of all the students that have been recipients of the award — how they've been able to use this scholarship to help each their own dreams."