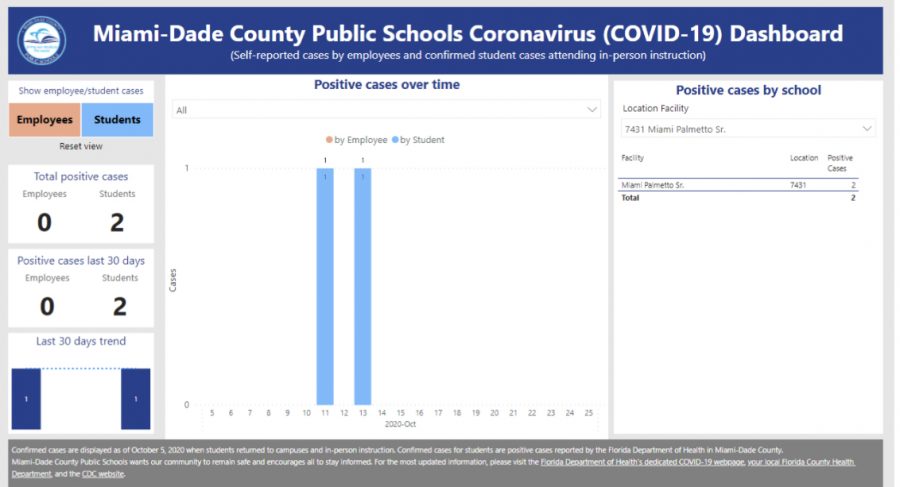 Nicole Markus
On Saturday, Oct. 24, Miami Palmetto Senior High administrators called some students and teachers to inform them they must remain virtual for 14 days due to direct contact with COVID-19 in school.
This quarantine, which has affected multiple classes, accompanies a confirmed update to the MDCPS COVID-19 dashboard, which tracks confirmed cases at each school in the Miami Dade County Public School System. However, it remains unclear whether the recent quarantine is related to the two cases on the dashboard under Palmetto. 
Palmetto is not the only school with confirmed COVID-19 cases; according to the dashboard, at least 68 employees and 144 students tested positive for the virus as of Oct. 26. Some schools, such as MAST Academy, closed for several days for cleaning after students tested positive.
Anybody who came in direct contact with infected students, specifically through classes, will need to quarantine as per district policy. Closures, quarantines and other safety precautions related to a positive case within a school community occur under two instances: under a self-report from a student/employee with the virus or a notification from the Florida Department of Health. In both instances, contact tracing and other mitigation strategies will occur. 
The high volume of students and employees in the Miami Dade County school system render these quarantines unsurprising. For the most part, schools with reported cases have been able to keep the virus contained. As of Oct. 25, no school in MDCPS exceeds eight total cases.. 
Currently, a large portion of each school's student body remains online, completing school through the MSO model. Talks about the return to phase three, when all students and employees will come back to school full-time, continue; however, with cases continuing to rise across the country, it has not been confirmed when this will happen.