Excitement from Promposal to Prom Court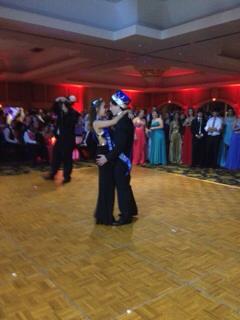 "Does my tie match her dress?" "Will these shoes hurt my feet? "Will we all fit in that limo?" "What's a corsage?" Palmetto students spent several stressful weeks preparing for the one night they would hope to remember for the rest of their lives.
The prom preparations all began at the beginning of the school year, when student council chose the theme "An Enchanted Evening," which goes along with the "Royalty" theme of the 2014 senior class.  They created a scavenger hunt with clues for students to guess the theme, and the winner, which happened to be Zoe Soroko, won a free entry ticket to prom.
"I thought it would be fun just to have the excitement for prom build up by doing a "reveal week," senior class vice president Mia Lam said. "We [the senior board, Mackenzie Guzman, Hunter Nash, Ms. Valero, and Mr. Gonzalez] planned what the clues would be for each day of the week. It was a blast to see people trying to guess the theme!"
Following the reveal, $75 tickets went on sale, marking the beginning of the "Promposal" season. Students took courting to a whole new level, taking different creative measures to ask that special someone to accompany them to the "Enchanted Evening." One young man changed the meaning of "promposal" when he proposed marriage to his girlfriend during the actual event.
"I wanted to do something really original," Senior Mathew Martinez said. "I wrote "Prom" on Chinese lanterns and send them up in the air. My girlfriend always wanted Chinese lanterns, so I got them for her as a surprise. It was successful and really cool."
The night concluded with the prom court announcements. Those running spent weeks getting their names out in the student body, and trying to win voters' hearts. Candidates showed their school spirit through posters, accessories, and even a marching band performance. Though all the candidates put in a lot of work, at the end of the night, only Sean Blyer and Adriana Garcia were crowned prom king and queen.
"When I was little, seeing all those movies about prom painted this image in my head," Prom Queen Adriana Garcia said. "It was everything I expected and more, it made my prom experience what it was and I can't thank everyone enough! Class of 2014, we rock!"

Hang on for a minute...we're trying to find some more stories you might like.