Beauty Industry Capitalizes on Connectivity
The beauty industry has evolved incredibly, and makeup in particular is now one of the most popular forms of self-expression.
"When I was around three, my mom's best friend sold makeup, and I would steal mascara and blue eyeshadow," sophomore Daniella Rouco said. "I'd put it on, and ever since then, I became fascinated with how makeup lets you express yourself."
Rouco runs @danibeauty47, a beauty/makeup account on Instagram where she posts photos of makeup looks she has done on herself and others.
"The makeup world is so judgement-free, carefree and just accepts everyone," Rouco said.
The beauty and cosmetics sphere has exploded due to the prevalence of social media today, providing a new outlet for the industry to directly reach and entice consumers.
"Through personal experience, there is a lot of following on social media from all over the world. People of all ages are able to access social media now," Rouco said.
As the prevalence of online shopping increases and the number of people physically visiting stores decreases, social media has proven to be an effective opportunity to bring in more revenue for beauty companies. Through accounts like Rouco's, companies can encourage the owners of accounts to purchase their products.
In a recent Forbes article, Fabrizio Freda, the President & CEO of Estee Lauder, said that about 65 percent of teens use social media to discover and purchase beauty products.
Kylie Jenner, for example, boasts over 97.5 million followers on Instagram. Capitalizing on her social media presence, she has built an empire with her cosmetic line, Kylie Cosmetics. According to her mother and company financial officer, Kris Jenner, in a TIME article, the brand has generated over $420 million in just 18 months.
Taking advantage of her prominent social media presence, Kylie Jenner frequently posts marketing images and advertisements on her Instagram page, @kyliejenner, to further promote her brand. Her cosmetics line has its own Instagram account as well, @kyliecosmetics, generating 14.3 million followers of its own.
The business is currently on track to be worth $1 billion. All together, Jenner's company has become one of the most well known cosmetic lines, especially among young people.
"Social media made it a lot easier to find Kylie's products because I follow her on Snapchat, so I got to see the launching of her business, as well as the makeup swatches," sophomore Gracie Paredes said.
Another method of social media marketing takes advantage of the online presences of people who greatly influence their community online.
Many cosmetic companies, such as NYX, will send social media "influencers", as they are called, new and free products in hopes they will review and promote them on the internet.
This has proven to be extremely effective as NYX is the third most engaged in social media cosmetic company, generating an earned media value of over $50 million, according to a recent Forbes article.
Kylie Cosmetics has a similar effect simply by customers giving the company free press. Social media influencers that are sent products extend publicity for cosmetic and beauty companies as they review the items sent to them, promoting the products to their followers and community.
"What made me want to purchase Kylie's products was seeing beauty gurus rave about them," Paredes said.
Social media has the ability to reach an incredible amount of people of a wide range of ages. It is an entire community of potential customers. Beauty industry companies and corporations are recognizing this, and thus capitalizing on the connectivity of social media.
About the Writer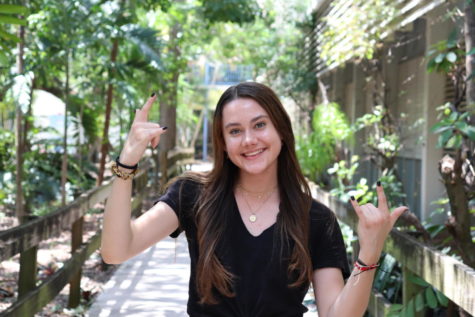 Allison Strasius, Editor-in-Chief
Allison Strasius is a senior and the Editor-in-Chief of The Panther. This is her third year on staff, and she hopes to improve the photography elements...