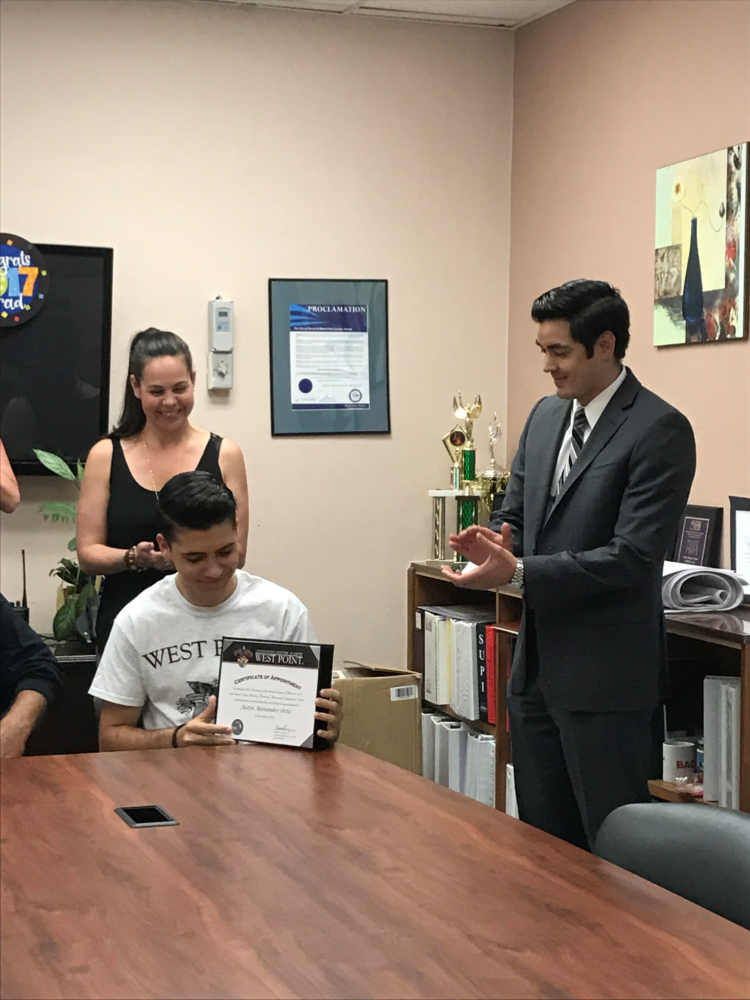 On May 10, 2017, Justin Ortiz, a senior at Miami Palmetto Senior High, accepted his certificate of appointment from the United States Military Academy at West Point. It was a big achievement for Ortiz, who had been looking to attend West Point since he was in the seventh grade.
"This is just something that I have always wanted to do," Ortiz said.
With a 10 percent acceptance rate, it is clear that getting admitted into West Point is no easy task.
"You need to show that you are academically qualified, that you have shown leadership, and that you are physically fit," West Point alumni Chad Maxey said. "And [Ortiz] was exactly what we were looking for."
Throughout high school, Ortiz worked hard to maintain an excellent GPA. He was involved in sports, such as wrestling and track, to keep himself active and fit. As an Eagle Scout, which is the highest rank in the Boy Scouting Program, Ortiz also displayed leadership skills. One of Ortiz's biggest leadership roles pertained to a community service project he had organized called "Just-In-Time," which helps raise school supplies for children in need at the start of each academic year.
When it came to the physical fitness exam of the application, Ortiz explained to Maxey that he wanted to improve his scores. Together, the two came up with a fitness plan, and three weeks later Ortiz's scores improved by 25 percent.
"That showed me everything I needed to know," Maxey said. "[Ortiz] was the type of person who wanted to go to West Point. He had that tenacity and I knew he was going to be able to get the job done."
Ortiz's school counselor, Lisa Mallard, knows that Ortiz put forth his maximum effort to get into West Point, and she admires him for that.
"We are excited and very proud of him," Mallard said. "He is a wonderful member of our school and the community."
Ortiz's parents, Jorge and Terri Ortiz, are also extremely proud, but are naturally experiencing some bittersweet emotions.
"Obviously, I am very proud of him. This is an amazing opportunity," Jorge Ortiz said. "But at the same time, like any parent, I'm concerned that I'm sending my kid off into a military environment that is going to be tough. You get a little nervous."
Hesitation aside, Ortiz's parents said that they chose to support their son because they knew that going to West Point had been a lifelong dream of his.
"It's his journey," Ortiz said . "It's what he wants. I remember him being in middle school, and I'm going to mailbox and I pull out information from West Point. He was in seventh grade and he was already calling up and asking for information."
Upon also visiting various other military academies, Ortiz said that he knew he wanted to attend West Point the moment he got onto the campus.
"When I was there, the environment just felt right," Ortiz said.
Starting this summer, Ortiz's journey at West Point will begin with a session of intense military training. Then, he will begin working to obtain his Bachelor's degree in Science, which will be fully funded by the United States Army. Ortiz is very interested in life sciences and aspires to become a doctor one day.