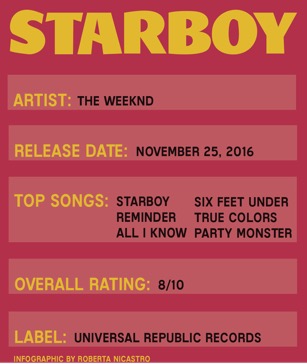 Fans might stray from artists that experiment too much with their music, considering many listeners enjoy what consistently meets their expectations. An artist that publishes album after album with the exact same sound often gets repetitive and a bit tiresome though.
The Weeknd's latest album, "Starboy," accomplishes both originality and experimentation. Several of the tracks follow through with his original fogged, shadowy sound previously found on his first three albums: "The Trilogy," "Kiss Land" and "Beauty Behind the Madness," yet he manages to divert to a more upbeat pop tone.
Abel Tesfaye, Canadian singer, songwriter and record publisher, is infamously known for his slow, forlorn sound accompanied by rumbling bass lines and falsetto registers. This new album possibly marks a transition in sound and maybe attitude as well. With his beehive-like dread locks trimmed and the songs leaning to a pop-electro intense feel, "Starboy" encompasses a variety of different, partially alternative sounds.
The album starts off with "Starboy," his first released single. The Daft-Punk-assisted hit holds an infectious bass line that, if played loudly enough, will surely get your blood pumping. "Starboy" is Jamaican slang for one who is seen as cool or overall important— and that is exactly how the song makes the listener feel.
The song is then followed by "Party Monster," which holds a fairly darker yet upbeat attitude. Tesfaye details another introduction to his lavish lifestyle and delivers a woozy, frenzied vibe which parallels the intoxicated haze of the events disclosed throughout the song. Later tracks such as "All I Know" and "Six Feet Under" follow a similar laid-back R&B style expected from The Weeknd's previous work such as "Low Life," a song he and Future released earlier in the year.
The third track, "False Alarm," serves as an ode to a woman consumed by her materialism that lost herself to a lavish lifestyle. This was the second single released, one week after "Starboy," and serves as his most polarizing work. It holds a pulsating dance-punk vibe which is bound to leave your head spinning after the first chorus. The song still follows The Weeknd's theme of the party atmosphere in lines like "Bathroom stalls for the powdered nose" but stray from his expected sound with spacey guitars that blare into a messy chorus.
Tesfaye used "Reminder" as a response to the critics that suggested he strayed from his drug-fueled partying habits after publishing "Beauty Behind the Madness." He tells them off by emphasizing "I am not a Teen Choice" and "I am not a bleach boy." The chorus then proceeds with a repetitive "You know me" as he finalizes his thoughts with "Every time we try to forget who I am I'll be right there to remind you again." The song projects a pulsing beat that your body cannot help but bump to. Track number 12, "Ordinary Life," sounds fairly similar to "Reminder," both presenting the same intoxicating beat that seeps through your body.
"Rockin'" is a pure, synth-funk ride while other tracks like "I Feel It Coming" and "Love to Lay" capture a more fun and pleasantly dazzling pace. Other songs manage to keep things unpredictable like "True Colors" which takes listeners back to Abel's first album "The Trilogy." It refreshes the set with an organic feel that fits right into a state-of-the-art R&B template. "True Colors" and "Sidewalks" are the exceptions that keep the album a bit more controlled, as opposed to his other tracks. "Sidewalks" featuring Kendrick Lamar, however, presents a much more spurious mood due to extremely auto-tuned vocals that lose a bit of the emotional connection created by the song's tempo.
"Secrets," a less exciting tune, did not spark critics' taste as much as others. The Rolling Stone referred to the track along the lines of  a sugary eighties disaster comprised of repetitive synth beats. This method also holds true for "A Lonely Night" which imitates Michael Jackson's sound, someone who Tesfaye previously referred to as an inspiration.
The overall album serves as moderate Pop and R&B perfection. Abel successfully kept his original sound while simultaneously holding an unpredictable set list. Ranging from pop synth-funk tracks to sedated, more controlled songs, The Weeknd successfully released a hit album yet again. Abel continues to broaden the R&B's musical palette to incorporate his indie, electronic, synth-funk style.